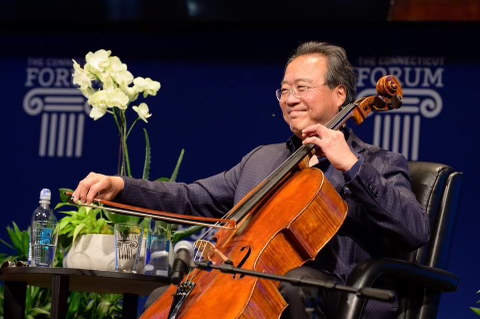 A Writing Initiative:
Writing & Music
Fall 2021
The Writing Initiative focused its fall 2021 efforts on exploring the creative connections between writing and music. It began with following models of responses to and critiques of music, and culminated in attendance at a live event, the CT FORUM's "Conversation with Yo-Yo Ma."

Day Tripping:
The Writer's Workshop
October 14, 2021
The undeniable harmony between the words and the notes was sounded in the preparatory workshop conducted by Ken Cormier, professor of English & Creative Writing at Quinnipiac University, co-sponsored by the district gifted committee.
Twenty students, recruited by writing and music instructors for their interest and talent in either medium, attended a three hour session hosted by Mr. Pinette in the BCHS Library.
The Ken Cormier writing workshop presented several engaging prompts; writing time was provided; sharing sessions celebrated several quality pieces of poetry, personal narrative, and fiction. Among the best responses to the personal memory of a specific piece of music was Sophia Torreso's family parody of a Billy Joel classic.
A Little Night Music:
One Host; One Guest; One Cello
Fifteen participants, primed by the workshop, were equipped with journals to record notes at the Yo-Yo Ma performance at the Bushnell on November 9.  A number of attendees, reflecting the depth of Yo-Yo Ma's conversation and his stunning performance of three provocative pieces of music, wrote outstanding responses to the evening. (Samples by Viet Cao, Martina Jagielski, Hannah Krueger, Emily Levesque, Miranda Muscara, and Chadd Vontell, and may be viewed by clicking the links below.)
The highlighting of music as a catalyst for writing is one of many curriculum related initiatives presented by TWI. Previous programs have linked science and math (Neil deGrasse Tyson/astrophysics and Gina McCarthy/climate crisis); American history (Norman Rockwell & Andy Warhol/Inventing America); and world language & culture and art (Michelangelo project; Italian women artists).
Notable writing samples from the event: