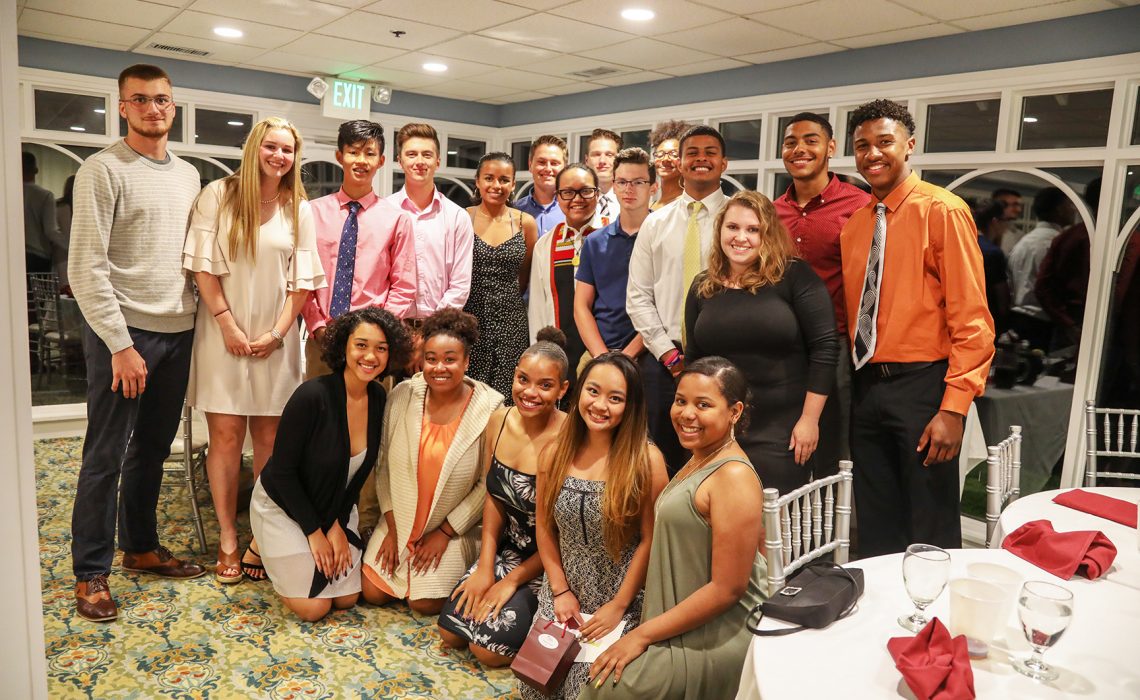 The Writing Initiative at Bristol Central High School honored eighteen seniors whose contributions led to an extraordinary inaugural year for the project.  The June 7th dinner at Chippanee Country Club brought together honorees, their parents, and key faculty who were instrumental in producing the wide variety of events made possible by the generous funding and support of distinguished BCHS alum Adrian Wojnarowski. By all measures, the BCHS Class of 2018 delivered on every investment of time and resource provided by Adrian and his wife Amy through their visionary foundation.
Guests were treated to a display of magnificent photographs highlighting the year's events. Generated by an independent study with Tech Ed instructor Jon Horan, J. Nick Osuch's photos recorded moments from the senior American Government & Politics field trip to the Norman Rockwell Museum exhibit "Reinventing America: Rockwell and Warhol" in October; the Writer's Workshop with Adrian Wojnarowski and Justin Craig of ESPN in December; and the Chiney Ogwumike speaking event on social equity in February.
Also on display was a work of cake art created by Tracy Celentano of Madame Gateau Classical Cakes & Pastries. The themes and images sculpted on the cake told the story of the year's events from Woj Bombs to ESPN tours; from Hill-Stead to Stockbridge; from Yogi Berra to Michelangelo. The cake featured a parchment scroll listing the names of the celebrated seniors.
Chris LaPlaca, Senior VP of Corporate Communications at ESPN, was the keynote speaker. With a steady blend of wit and wisdom, he took guests on his journey from college boy to corporate executive. He was gracious and generous with advice, inspiration, and promises (fulfilled) of job shadowing opportunities for two ambitious seniors, Zoe Sinclair and Paige Hinton. (View his speech here.)
TWI director G. Gale Dickau shared anecdotes and excerpts from the best of the year's writing and images while Principal Pete Wininger presented awards of $500 to $1000 to these seniors who responded to TWI programs with provocative writing and inspired artwork: Alex Balfour (Bryant), Alex Bernier (Manhattanville), Xia'ian Carrasco (SCSU), Mersadez Chaleman (US. Army), Desmond DeVille (University of Virginia), Megan Ferraro (University of No Carolina), I'deara Gordon (University of So Florida), Sarah Guerin (Elms), Dathan Hickey (Yale), Paige Hinton (UCONN), Pat Kjornrattanawanich (Boston College); Sydney Pina (Ohio State), Olivia Rajotte (UCONN), Titania Turtem (Allegheny), and Nigel West (SCSU).
Awards of $5000 for meritorious efforts were made to J. Nick Osuch (Rensselaer) for his outstanding contributions in photography and to Isaiah Miller (Wesleyan) for his consistent leadership and ambassador roles in TWI.
The Woj Wordsmith Award of $10,000 was presented to Zoe Sinclair (Yale) for excellence in writing of all genres – personal narrative; poetry; and journalism. She interviewed and profiled author Steve Pemberton for the One School: One Book program. She interviewed and introduced Chiney Ogwumike for the social equity event. Her poem, at the root, won first prize in the 2017 BCHS Poetry Contest and the district Pasta & Poetry Night, and won honors in the 2018 CT Student Writers competition sponsored by The CT Writing Project at the University of Connecticut. She was a finalist in the 2018 College Essay Contest. Clearly, her experiences in TWI will serve her well in college level academics and activism.  (View her speech here.)
Founder of The Writing Initiative at BCHS, NBA Insider and ESPN analyst Adrian Wojnarowski expressed his personal and professional pride in the accomplishments of the honorees at TWI in its first year. With humility that has been the hallmark of his professional career, Woj noted that his beginnings in Bristol have always provided him with the confidence to pursue his career and the inspiration to give back to his alma mater.
Grants to three other BCHS efforts were announced at the dinner's conclusion. TWI will contribute funds for the purchase of professional grade photographic equipment to enhance Jon Horan's tech ed projects to publicize and promote  BCHS activities; for Gina Gallo's staging of The daVinci Project, a cross discipline effort that infuses art into the world language and engineering curriculums; and for a gifted sophomore writer, Zaheer Turtem, to attend the summer scholars writing project at Choate Rosemary Hall in July.