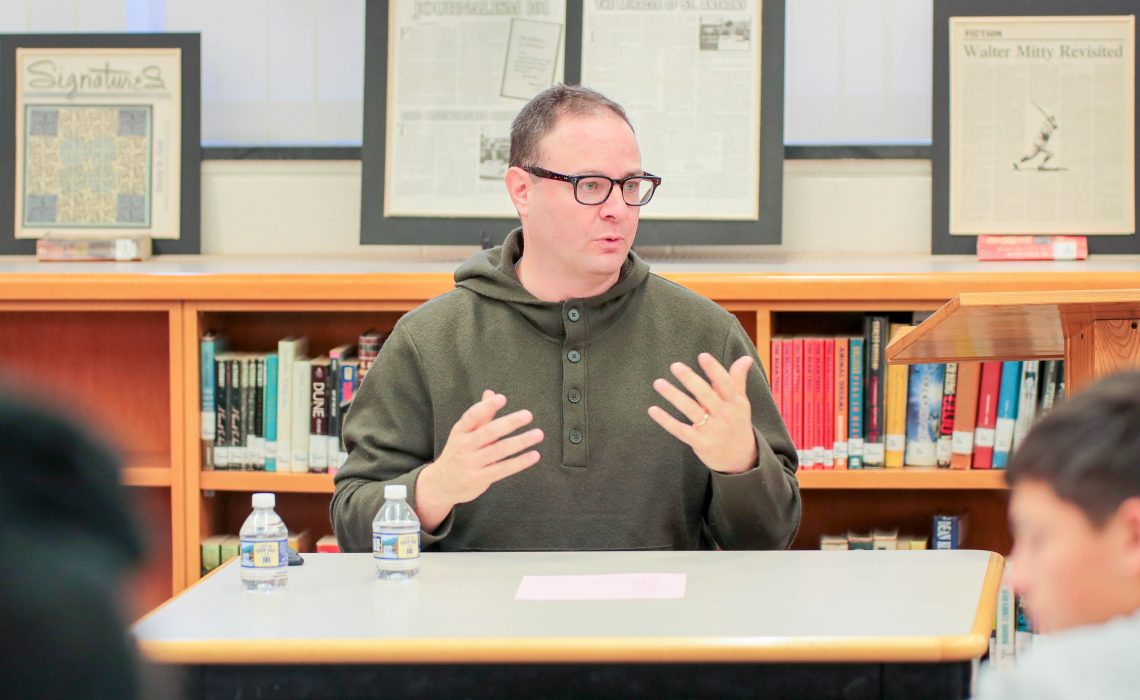 The first guest in the Writers on Writing Series hosted by The Writing Initiative at BCHS was its founder and patron, Adrian Wojnarowski, distinguished BCHS alum and nationally recognized sports writer and NBA insider. Woj's return to his hometown and alma mater is an exciting sidebar to his current NBA analyst position at ESPN.
Forty BCHS juniors and seniors with talent and interest in sports journalism met with Wojnarowski on December 5, 2017, for an open discussion on the nuts and bolts of writing, the special dynamic of sports journalism, and the art of the interview.
An essential piece of advice shared with his audience was this: Preparation is key. What might amount to a few minutes of broadcast time on ESPN, or a single column of online commentary, or a series of questions in a podcast on The Vertical, often involves hours of research in preparation.
Joining Wojnarowski was his colleague Justin Craig, Senior Director, Programming and Operations for the national ESPN Radio network. Both are graduates of the St. Bonaventure University school of journalism. They handled an extended Q&A session with students and staff who inquired about their breakthrough moments in sports journalism, the importance of chemistry between on-air co-hosts, and the way to respond to disgruntled sports celebrities.
Several students in attendance expressed an interest in pursuing some aspect of career journalism as a result of the workshop. Opportunities to job shadow at ESPN may follow.
The Writing Initiative will invest in a number of writing competitions in the coming months. Among them, the Personal Response to "A Chance in the World" – One School; One Book (January); the annual Poetry Contest (February); and the Best College Essay Contest (April).